Webblast Galaxy as part of the IPK Crop Analysis Tools Suite (CATS) offers access to genomic references published by IPK and collaborative projects. It replaces the late viroblast application.

Galaxy is an open source, web-based platform for data intensive biomedical research. If you are new to Galaxy start here or consult our help resources.
16 Jul 2021

Galaxy update

The Galaxy-web instance is updated to latest stable release 20.01.

12 Apr 2021

New reference category

Brassica napus Darmor-bzh v10 pseudomolecul assembly as first member of the new category "Brassica" is available for blast now.

12 Apr 2021

Barley cv. golden promise reference

Golden Promise pseudomolecules including unplaced scaffolds are vailable for BLAST now. The assembly is also available from the download area.
Unregistered users data can be accessed as long as your browser session is alive and can be identified by cookies. Your files are not permanently stored and will be deleted after 24 hours. Please make sure to download and save your results. For more information please have a look at the 'Introduction' section.
The maximum file size for upload is 100Mb.
By using this Galaxy instance, we assume that you have read and accept the Terms of Use. For any questions or support please email to the Galaxy admins.
Please evaluate this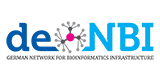 service! Give your feedback sentiment_satisfied sentiment_neutral sentiment_dissatisfied !